SRT Vehicles - Autonation Spring CDJR
| SRT Vehicles: The Heritage of Street and Racing Technolog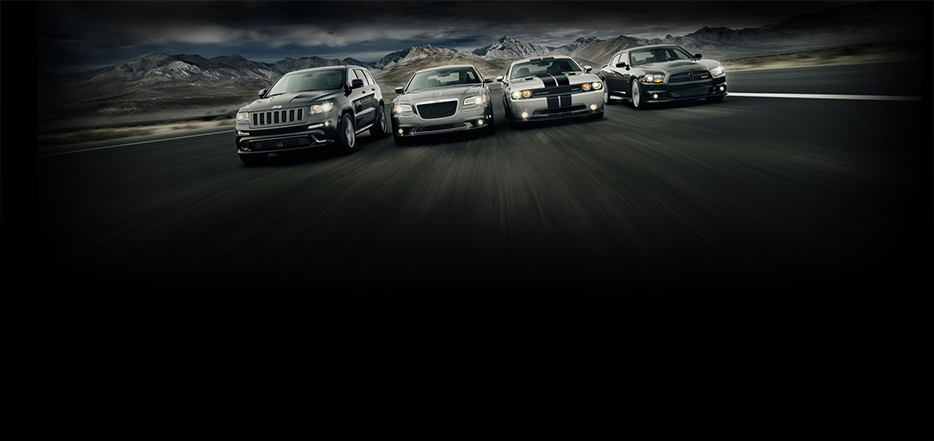 Street & Racing Technology, or SRT for short, is a high-performance automobile group within Chrysler LLC. Since the 1950s, performance cars has been associated with the Chrysler brand. Beginning with an elite team of engineers, they set out to see just how much power they could get from existing engines. Creating new intake manifolds with long-tube intake runners, this design helped engines take in more air, which turned into improved performance for their vehicles.
SRT originally started as "Team Viper", who developed the Dodge Viper, and in 1989 at the North American International Auto Show in Detroit, they unveiled the Viper concept car. Just a few weeks later, the Viper was approved to begin production, while Team Viper worked to improve their super-car both for the street and for racing. Their research gave them an edge in endurance racing, which led to multiple victories in the late 1990s.
>>> Explore SRT Viper

In 2002, Chrysler announced the creation of Performance Vehicle Operations, a group that would utilize their current resources to improve their high-performance focus. PVO celebrated by unveiling their Viper-powered Dodge Ram SRT10, along with the Dodge Neon SRT4 concept vehicle and the Viper SRT10.
In 2004, Chrysler internally renamed their development team to SRT. The naming convention for SRT vehicles indicates the engine type of the vehicle. The number that follows the SRT prefix is the number of cylinders that are in the vehicle's engine. For example, the Dodge Charger has a 470-HP Hemi V-8 engine, thus the SRT version is known as the Dodge Charger SRT8 Super Bee.
Each SRT Vehicle must meet five benchmarks before it can obtain an SRT badge. They must possess:
- Superior Handling and Capability
- Excellent Braking
- Exhibit an Aggressive, but Functional Interior
- Have a Racing-Inspired, High Performance Interior
- Be an Outstanding Ride
SRT Viper / 300 SRT / Charger SRT / Challenger SRT / Grand Cherokee SRT / SRT Viper GTS-R
| Contact New Sales (888) 387-2988 today for more information!